Biohazard Remediation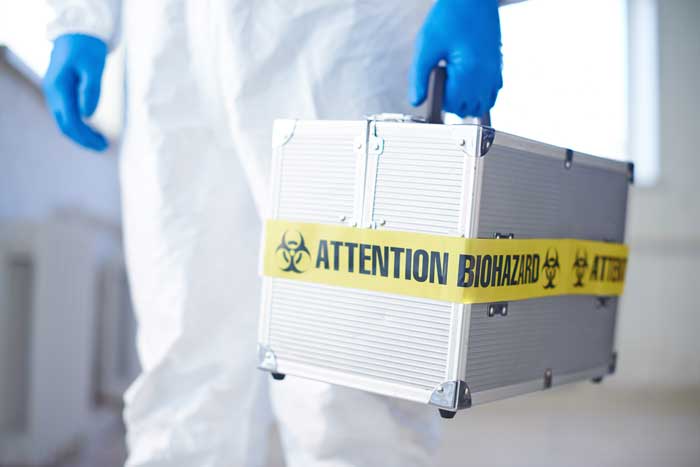 Biohazard remediation is our core expertise. Biohazard cleaning involves the decontamination, disinfection, recovery, removal and packaging for disposal of all "Biohazardous Infectious Materials", (WHMIS Class D, Division 3). We offer professional and compassionate biohazard cleanup services. Our crew is ready 24/7 to be dispatched to your location. Our first and most goal is to protect the health and safety of everyone involved and disinfect and remove all biohazard contaminants thoroughly and completely. Biohazards are a risk to human health and the environment.

Some biohazards are:
Bloody and body fluids
Animal waste including dead animals
Wildlfe feces and contaminants (raccoon, rat, bat. etc.)
Microbiological waste
Pathological waste
Needles and Sharps
All of the above carry hazardous health risks and you should NEVER attempt to clean them yourself.

As a professional biohazard cleaning company, serving Toronto, the GTA and across Canada, we are trained, certified and insured to properly remove, disinfect and dispose of all contaminates in accordance with the Canadian Environmental Protection Act Regulation 347.  All Pathological Waste is disposed of through a federally licensed medical waste transporter. Lastly, if additional evidence is subsequently discovered, our specialists are trained how to approach and preserve the scene.

We offer 24/7 emergency response for:
Unattended Deaths
Homicide & Suicides
Post Forensic Cleanups
Needle and Sharps Secovery
Commercial & Industrial Accidents
Communicable Disease Disinfection
Biohazard Remediation
Crystal Meth/Ecstasy/Chemical Lab Cleaning
Extreme and Hoarding Cleaning
Squalor Cleanups
Odour Removal
Infection Control Treatment (Touchless Surface/Air Decontamination)
Our "Infection Control Treatment" technology is one of the most advanced offered in the world, with direct certification from the World Health Organization. From COVID-19 and MRSA to Foodborne Illnesses, our "Touchless Surface/Air Decontamination" methodology, is of the highest caliber.
Our surface/air technology is appropriate for the following environments and industries:
Air Handling
Bio-Security
Cruise Ships
Day Cares
Farms
Food
Hotels
Manufacturing
Motels
Offices
Planes
Restaurants
Schools
Tourism
Etc.
For professional biohazard cleaning services in Toronto & the GTA give us a call now: 1-866-724-0800.